Making $6k from a baby AI photo generator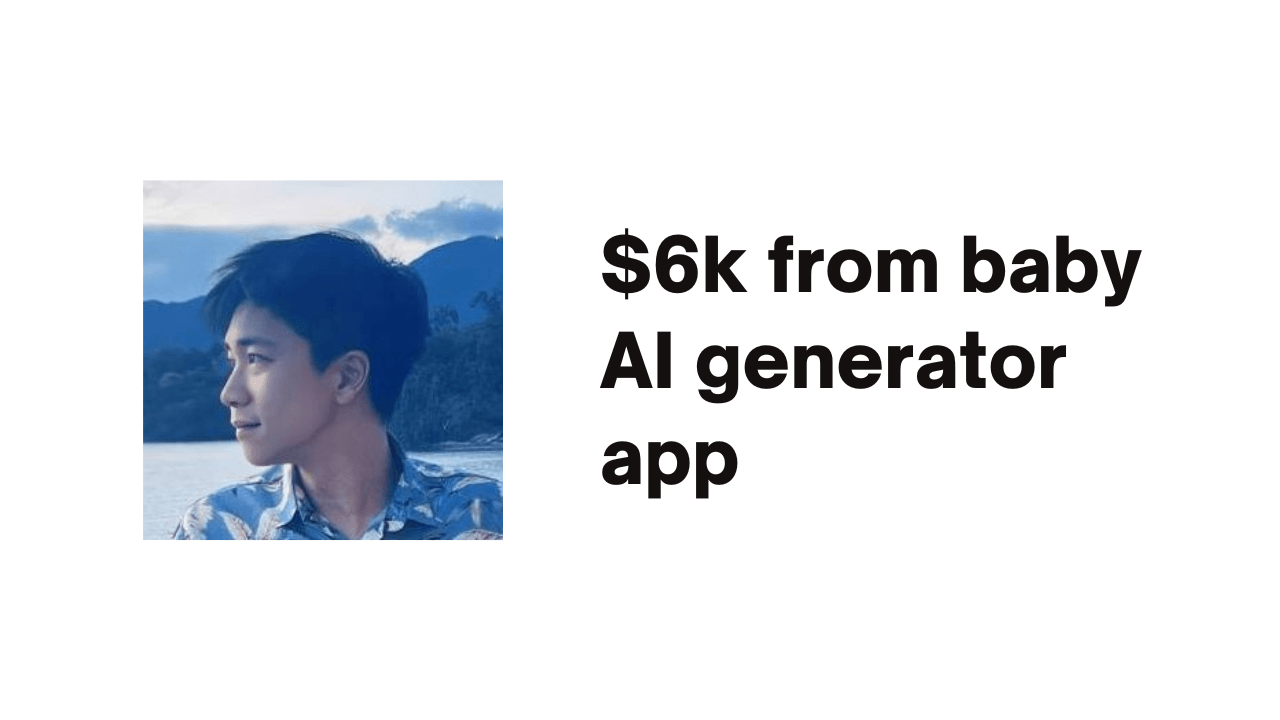 Ever wondered, "Is there an AI to see how your baby looks?" Well you're not alone! OurBabyAI is an app that shows how your future baby may look.
It is made by a founder Yifan Goh who has made $6k from the project so far. In this interview Yifan goes over why he created it, the tech behind the site, his marketing channels and more!
Can you tell us what you've achieved with OurBabyAI?
Sure! Total revenue to date is $6K USD, total number of customers is 500+, and total unique visitors to date is 127K.
What's your background?
I did Mechanical Engineering at Nanyang Technological University in Singapore, and worked as a mechanical engineer for 3 years. I didn't like it so I quit my job and went to do a coding bootcamp.
I did the bootcamp with the intention of becoming an entrepreneur. I work as a software engineer at a Series A startup during the day, and side hustle for OurBabyAI during the nights and weekends.
Why did you create OurBabyAI?
I created it from a shower thought if I'm being totally honest with you. The idea wasn't scratching my own itch, I'm not married yet, and it doesn't even solve a problem. 😂
How did you get people to check out the site?
70% from SEO, 20% Direct (probably word of mouth?), 10% influencers/directory sites. I feel very fortunate to rank highly on Google, despite not having much SEO knowledge when I first started this venture.
Can you tell us why you used Carrd for your SaaS landing page?
I used Carrd​ (affiliate) because I really love how intuitive it is to use them. On their Pro Plus plan, it comes with payment required (Stripe) forms, and forms that can send POST request to a server. Just what I needed to build my SaaS business. I actually started with a Carrd​ (affiliate) landing page with no backend so those features were mandatory for me to shape it into a full stack app at the later stage.
Have you experimented with prices?
Yes, I have. I've tried $4.97, $9, $17 and $19. Discovered that $9 converts best. 🙂
What does an average day look like for you?
A typical work session for OurBabyAI today would be:
making sure every order has been fulfilled.
making sure every customer's enquiry has been answered.
working on influencer marketing and content marketing. I'll reach out to influencers to see if we can work out a deal, and write blog posts to capture more search traffic.
I'm done with the product for now, so I don't intend to change the landing page or backend app for a while.
Can you talk about what tech you use for OurBabyAI?
I'm using no-code one page builder tool, Carrd​ (affiliate), for the frontend, and wrote my own node.js express server for the backend. I have a few processing steps (different technologies involved) to generate the images and it's fully automated with a script.
Where can people find out more about you and OurBabyAI?
Connect with me on Twitter at https://twitter.com/imgyf ! I'm pretty active there 😀
This article contains affiliate links