Making thousands from a German learning online community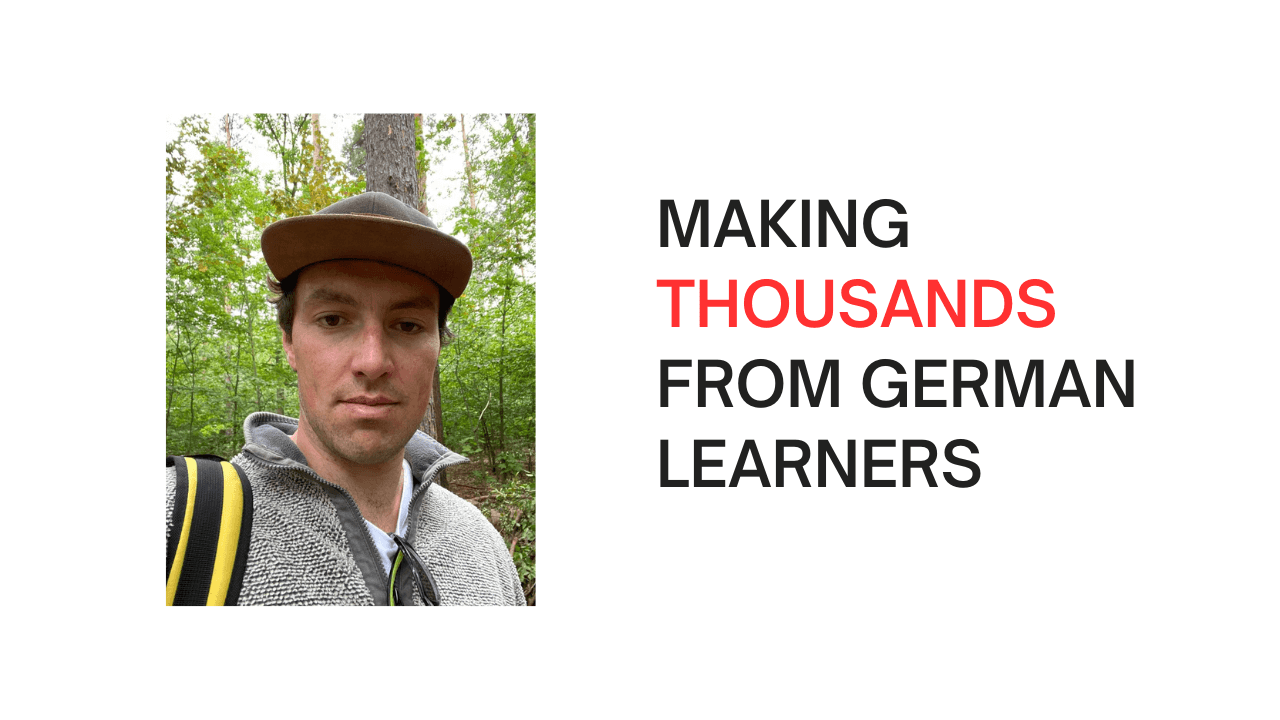 Rónán is the founder of Deutsch Gym, an online community for learning German. He's making thousands in revenue from his startup which he made after moving to Berlin and wanting to improve his German language skills. Read on for his tips on making a community, marketing and building a marketplace.
Can you tell us about what Deutsch Gym is and your achievements so far?
Deutsch Gym is an online speaking platform for German learners. Members join to practice their German with other learners and also with native speakers. We provide interesting conversation topics everyday so there is always something to talk about.
Members pay a subscription that gives them access to the meetups and the community - they can pay either monthly or yearly. Our members come from all around the world and have moved to Germany for work or other reasons. You can hear great stories from the members about their culture.
My achievements would be it existing! Like many founders I have the scar tissue from many failed side-projects and companies so the fact that this one works and the members enjoy it makes me proud. On that note it is always especially nice when a member emails me unsolicited to tell me how Deutsch Gym has helped their German and their confidence.
Due to copycats I have become fairly tightlipped about sharing numbers - sorry to be boring! I have been living off it full-time for 2.5 years and we run 22 online meetups per week.
Were you solving your own problem when you made Deutsch Gym?
I was definitely solving my own problem - a problem many foreigners have today. When I began to take intensive German courses in Berlin a few years ago, I wanted to practice my German with locals in cafes and bars and the like. I quickly discovered however that they had no time for my broken German - they simply switched to English.
So out of frustration of not being able to practice my German in the wild, I started a free online group for German learners. What started out as being once per week for free grew to the stage where we now have multiple meetups per day, every day, for all levels. A lot of learners in Germany have the same problem I had.
It was an intense experience in the beginning as I led all the German meetups as a moderator, even though my level was intermediate at best. Eventually, of course, I hired native speakers to lead the groups so the learners could get the real experience of talking to a proper German speaker.
What have been the best marketing channels for growing Deutsch Gym?
At the start I used Meetup to organise the meetups, now I have invested a lot into SEO, I have a newsletter and also a referral program. The blog is hard to get going I find. It is definitely worth it, but you need to be writing a lot of good content for it to be picked up, and it very often takes 6 months (for me anyway!). I have not cracked SEO yet. But that's what I want to concentrate on from now on.
People also share the group through word of mouth. I have experimented with Facebook, Instagram and LinkedIn ads, but I have never had much success. Ads can be dangerous when you bootstrap a company as you need to conserve cash, and you can easily burn €000s just experimenting with ads before you reach your target CAC.
Can you talk about what your stack is and how much it costs to run roughly?
The costs vary but perhaps about €1600-€2000 per month - it is certainly not a cheap business to run. I use the following:
Discord/Zoom for the meetups
Heroku for hosting API work
Stripe and Memberstack for payments
Katlinks for SEO research
Webflow for the main site
Carrd for websites for the English & Irish groups
Mailjet for emails (tip - after moving from Mailchimp to Mailjet my bill went from €85 p/m to €23 p/m)
Rewardly for the referral program,
1Password as a password manager (although I am considering cancelling it as Apple Keychain is so good),
Holvi as a business bank
and Zapier to glue everything together.
Decisions I regret - not using a legal firm to incorporate the company. In Germany the process is long and drawn out, and doing it during the pandemic when offices were closing, and over a Christmas break, made the process even slower, and on top of that all the legal and accounting documents are in German. Next time I would just bite the bullet and get a law firm to take care of it. The process was stressful and slowed down my progress with the business.
I also was not careful enough with who I hired at the beginning - I am now extremely picky when choosing candidates to lead the groups. They're the face of your business so it is one of the most important decisions I make.
What's your top tip for people running a community business?
Be as engaged as possible when you begin to set the tone of how the community will be. At the start I led every single meetup and that set the vibe for the group. I answered every question in every thread, posted a lot in the groups, and really decided how the group would function and how the atmosphere would be. I learned what etiquette would be appropriate and iterated from there.
After doing that intensely I felt able to pass the baton on to others (the native speaker leaders) so that they could lead the groups and the atmosphere would largely remain the same. It is a lot of work at the start, you have to be very online, very attentive, but you learn how to deal with it, and then after a while the group will start to regulate itself a bit, with the guiding hand of you and the moderators if you have any.
So there are no shortcuts at the start, but the plus side is that you get to create a group exactly as you would want it, which is pretty cool.
Marketplaces have a reputation for being hard. Did you concentrate on finding teachers or learners first?
I would not necessarily call Deutsch Gym a marketplace as I only need a limited number of group leaders. I was dead set on finding the learners first! The group was totally free at the start so members joined quite readily. Once I found the learners I kept it free for a couple of months, and then started to charge for it to validate it. My first price was €10 per year - I still can't beat the rush I got when the first sale went through! After I got 2 sales I changed it to €10 per month and have increased it since.
For the teachers, some of them joined after volunteering to help out for free at the beginning.  Then I brought them on as the group leader.  For others I used job sites like Indeed or Facebook groups. It has never been a huge issue in finding the group leaders, although interviewing and selecting good candidates is harder and more time consuming.
What is the founder scene like in Berlin?
It is very active and vibrant, there are a massive amount of startup meetups here, but I have not been very involved recently. I go to the odd founder/startup meetup here which is fun, but mostly I'm at home or in a cafe working. Twitter is quite useful for finding other founders, as is Indie Friends.
I probably should get more involved in the startup scene here, but it is hard to justify going to events when you are being productive and working on your business. That is a bit of an excuse though as you can do both, so perhaps this is the year when I change and put more energy into my Berlin networking.
Who are your favorite founders that inspire you?
Elon Musk for being fearless, DHH and Jason Fried for forging their own path, the Collison brothers for starting such a complex business and scaling it so young.
I do have so say I generally appreciate anyone who goes out and creates something from scratch that helps society - be it your local cafe, an event organiser who organises a local music festival, a shoe company. When we see a business up and running or buy a product or go to an event we take it for granted that this just exists and they must be making money. But for all these businesses there is real risk and stress involved so I am grateful to anyone who sticks their neck out and tries it.
What's your main tip for language learners?
Speak! Too many people practice on certain gamified apps or only do lessons with no spoken practice and then never learn the language. Languages are there to be enjoyed so get out of your comfort zone and talk! Another tip if you are attending in-person group lessons - the language books they use are actually very good and the homework questions have been fine-tuned to help you with specific grammar rules, so do all the homework they give you, you won't regret it.
Where can people find out more about you?
I'm active on Twitter, my site is https://deutschgym.com if you are learning German or https://englishgym.io if you are learning English and my blog is http://constraints.io. Feel free to reach out if you want to chat.